Happy Monday everyone. Hopefully you all had an enjoyable weekend! Did anybody celebrate National Public Lands Day this Saturday? I didn't celebrate yet, BUT I will be celebrating all week with our week-long habitat restoration events! If you're interested in participating, visit CVNP's website here: https://www.nps.gov/cuva/getinvolved/volunteer.htm Registration is required for ALL participants. If slots are full, keep an eye out for potential events later in October!
I've been noticing these dashes of blue on the ground on my runs, bike rides, and hikes through the park. I originally dismissed them as either ground ivy (Glechoma hederacea) or blue bugle (Ajuga reptans) (both pictured below). However, I know those blooms came and went in late spring/early summer.


Credit: ground ivy by Thomas Kent and blue bugle byTim Chandler
Finally, I stopped to take a good look and lo' and behold, our great blue lobelias are in full bloom! These blooms add a perfect bluish-purple contrast to all of the yellows, purples, and whites that make up Ohio's fall fields of wildflowers. So, for this week, I just wanted to give some identification tips for this wonderful gem of a plant. As always, my identification tips are coming from Newcomb's Wildflower Guide and John Hilty's Illinois Wildflower Guide online.
Great blue lobelia (Lobelia siphilitica):
In addition to the great blue lobelia plant, CVNP is home to three other members of the Lobelia genus: cardinal flower (Lobelia cardinalis, we should be nearing the end of this flower's bloom time), Indian tobacco (Lobelia inflata, which should be blooming for another month or so here!), and pale-spiked lobelia (*Lobelia spicata*which should have finished its blooming period about a month ago).
Most great blue lobelias are around 1' tall, but some can reach about 4'. They are unbranched and have alternately attached leaves with serrate leaf margins. The plant's bluish-purple flowers are found toward the tip of the plant. These blooms have two lips: the upper one is split into 2 lobes, while the lower one is split into 3. You'll likely find these beauties in lower-lying, wet habitats. Some good examples are wet prairies, thickets, swamps, and floodplains.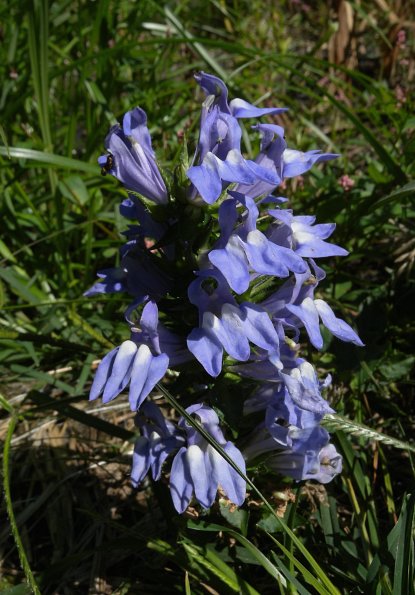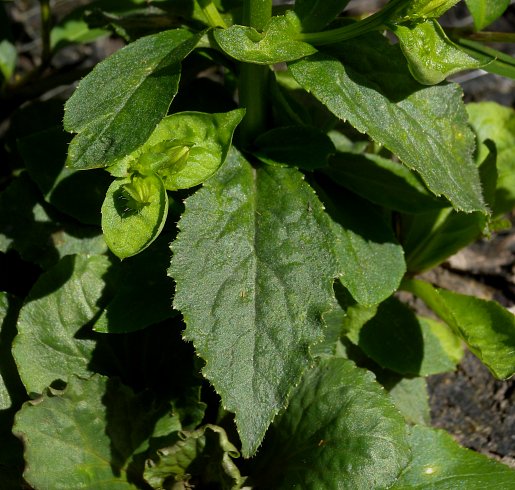 Credit: Eric Hunt and John HIlty (for second and third photos)
Hopefully this feature is helpful during your next visit to CVNP! For more detailed information, here is the link to John Hilty's page on great blue lobelia: https://www.illinoiswildflowers.info/wetland/plants/gb_lobeliax.htm
Enjoy your week out there, iNatters! Can't wait to see your cool finds!
Posted by

mklein1216
, September 28, 2020 10:43 AM