Hey there CVNP family! Hope you've all enjoyed yourselves during these cold and rainy days of late October. I would like to apologize for getting this week's post out so late; I helped with another week-long tree planting event for Make a Difference Day!
This week, one of our rangers, Rebecca Jones, suggested that we talk about witch hazel, a fitting feature for spooky season! American witch hazel is not a wildflower in the definition of a wildflower being a forb. It's a shrub or small tree that flowers middle-late autumn. Its native to the eastern half of the U.S. and has quite the history of folklore remedies and uses! Various American Indian groups used witch hazel for a wide variety of ailments; from sore throats and fevers to bruises and back pain. Even today, we might see witch hazel on the shelves of the first aid section at our local drug stores. Witch hazel was also once used in the practice of "well-witching" or "dowsing" in which a practitioner used a forked branch to locate underground water or valuable metals. The origin of dowsing is uncertain, for evidence from ancient groups from Europe, China, and even Egypt display accounts of this practice.
American witch hazel (Hamamelis virginiana) is an understory plant in our forests, growing as a stout bush or an abundantly branched small tree. Its gray branches give it a gnarled and mysterious look during middle to late autumn, when its blooms appear. Its blooms are a golden yellow with twisted, string-like petals that resemble a spider's legs or a witch's wild mane. The blooms will curl up when it gets too cold and unfurl in warmer temperatures (relative to the chilling temperatures of fall, that is). Witch hazel is pollinated, often at night, by owlet moths.
The blooms only appear once the shrub's leaves have turned yellow and fallen for the season. Its leaves are an oval-obovate with wavily-toothed margins. Witch hazel seed capsules resemble a whittler or carpenter's rustic representation of an acorn. After pollination, seed capsules enter a dormant stage until the following autumn, when the capsules forcibly (and sometimes audibly) expel their seeds up to 30 or 40 feet!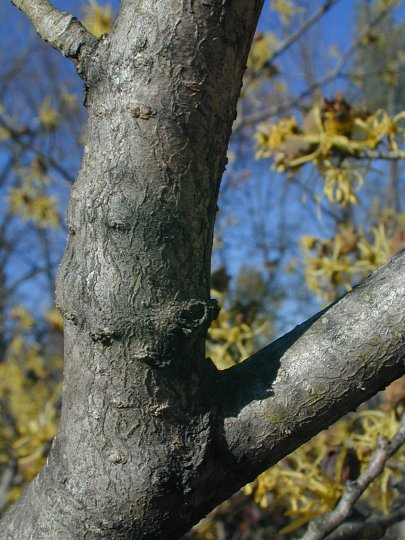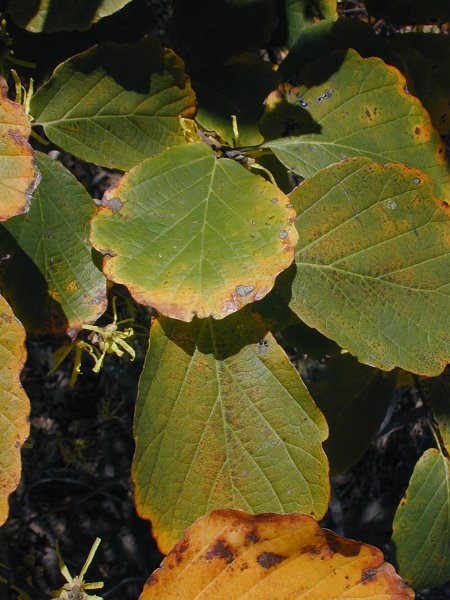 Left: gray bark of American witch hazel, Middle: golden blooms and woody seed pods of American witch hazel, Right: American witch hazel leaves
Photo Credit: John Hilty, courtesy of Illinois Wildflower Guide online

Left: American witch hazel with green leaves, Middle: with yellow leaves, Right: with blooms
Photo Credits: Great Plains Nursery, William Cullina, and Roland Boutwell
This week's post has been informed by John Hilty's Illinois Wildflower Guide online, Newcomb's Wildflower Guide, Peterson's Field Guide to Medicinal Plants and Herbs, Science World, and the United States Department of Agriculture. Enjoy the rest of your week everyone! Stay safe this Halloween!
Posted by

mklein1216
, October 28, 2020 02:22 PM