Join us for the September EcoQuest: Native, Introduced or Invasive?
Find and map plant species and discover if they are native, introduced or invasive.
There are many labels used to describe plants. Not just their parts or names, but also what they do and where they are found. Native, introduced and invasive are three labels that can describe how plants came to exist and interact in an ecosystem. During this EcoQuest, learn more about what these labels mean and how they can describe plants in metro Phoenix.
---
Join the EcoQuest here:
https://www.inaturalist.org/projects/native-introduced-or-invasive
Observation Guides to help identify some of the native and invasive plants in metro Phoenix:
Native: https://www.inaturalist.org/guides/12196
Invasive: https://www.inaturalist.org/guides/11351
The species information provided by iNaturalist is also helpful.
---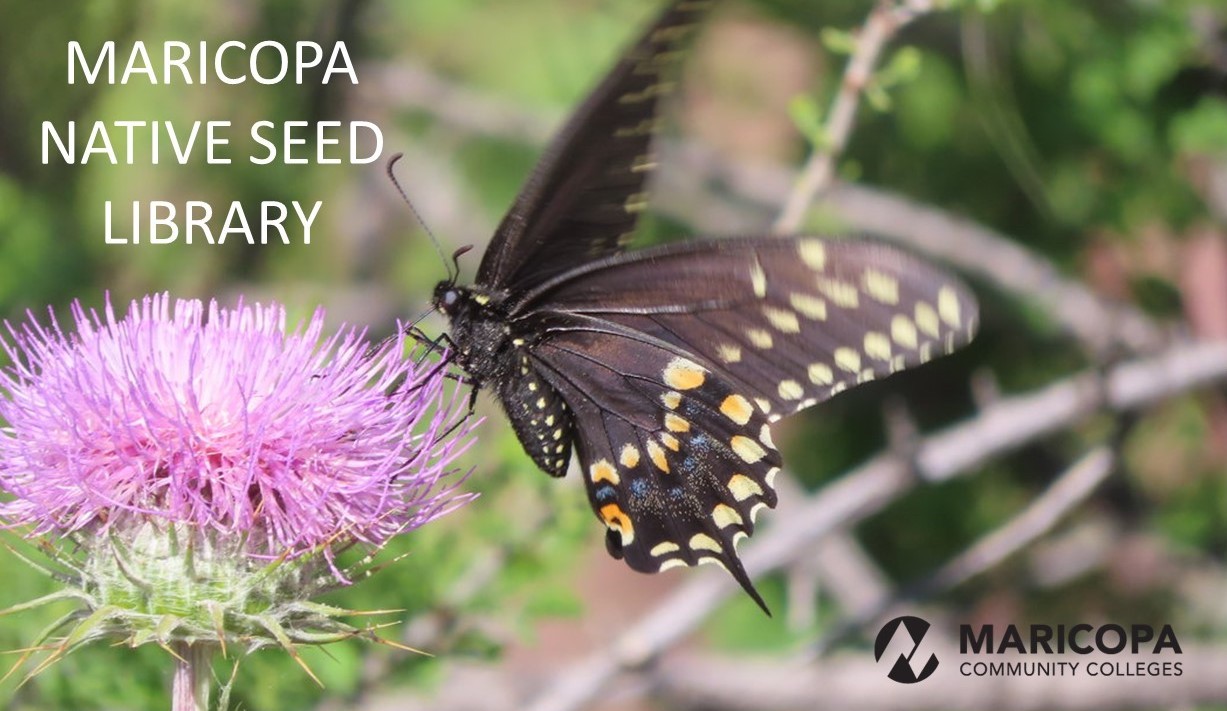 This month is a collaboration with the Maricopa Native Seed Library. The library provides free native seed to the community, as well as free workshops, information and consultations on native plant gardening. Whether you have a lot of space or an apartment patio or balcony, the library makes it easy to grow native plants where you live. You can find seed from the library at various locations throughout the valley.
Learn more about native plants, find their seeds and support the Maricopa Native Seed Library here:
https://libguides.maricopa.edu/seed
---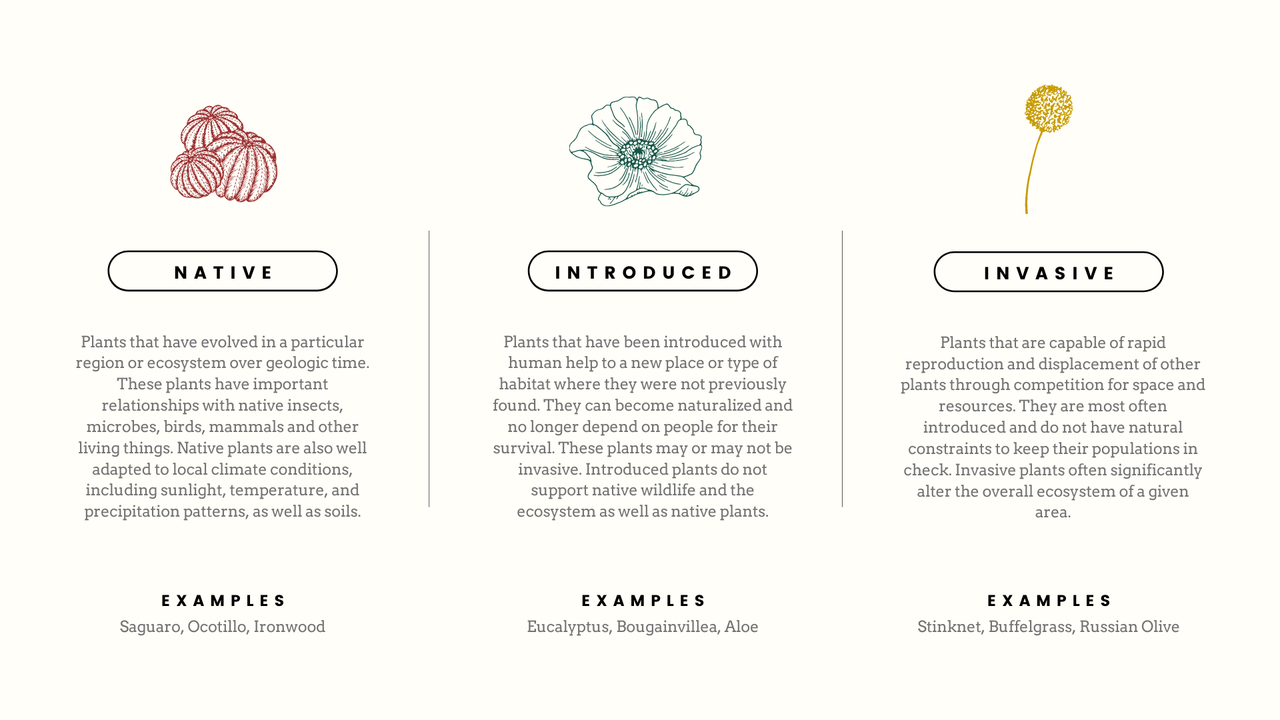 *These labels are not restricted to plants and can be applied to other organisms, such as mammals.

This EcoQuest focuses on three labels: native, introduced and invasive.
Why do these labels matter? These labels help explore plant origins and evolution, and can deepen the understanding of how plants interact with other living things and their environment. These labels can also reflect human impact on plant life and ecosystems. Let's explore what these labels mean.

Native (or indigenous) plants occur naturally in a given region and have developed and existed there over a very long period of time. They have established relationships with native insects, wildlife, each other and people. Examples of this include bats as a pollinator of agave and the importance of saguaro (Carnegiea gigantea) to the O'odham. These plants are part of a living landscape that contribute to the variety of life and healthy ecosystems. Some native plants are also endemic, meaning they are only found in a specific region and nowhere else. Native plants play an essential role in food sovereignty and traditional medicine. Their reduction or elimination often leads to impacts on traditional plant use and knowledge, including food crops. Growing locally adapted native plants allows people to be self-sustaining and continue the cultural connection they have with these plants. Native plants often require less input, like fertilizers, pesticides, or water, and can also contribute to sustainable food sources as the climate changes.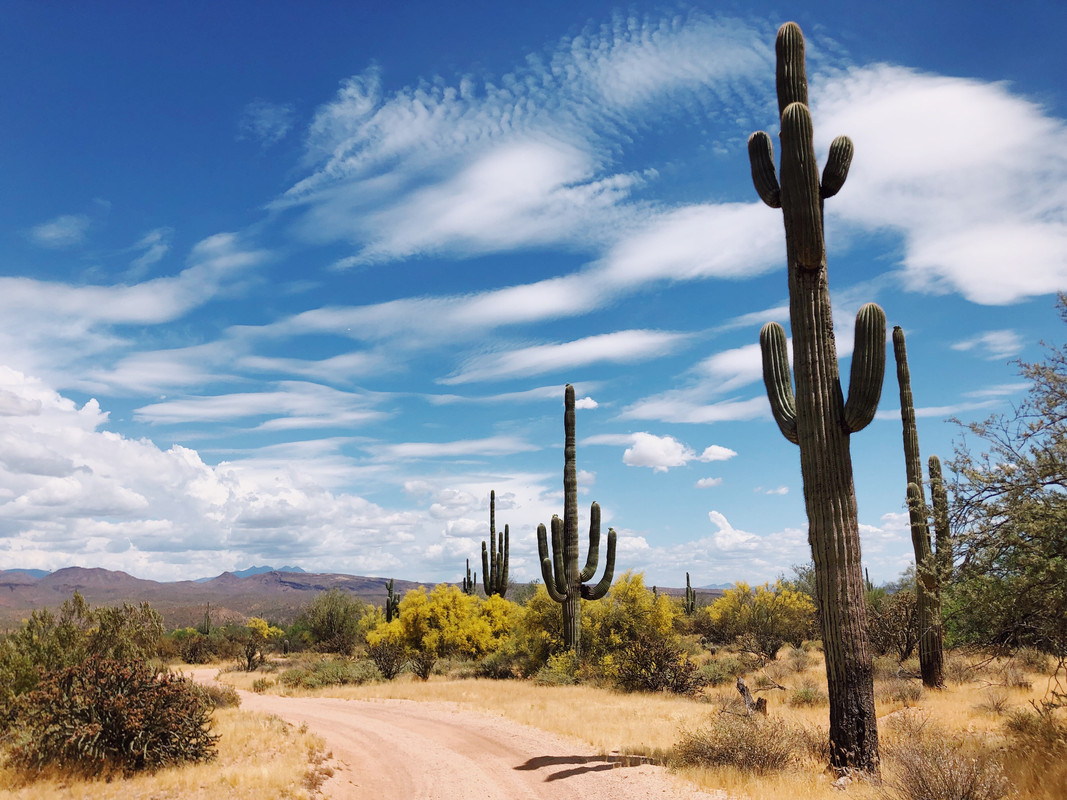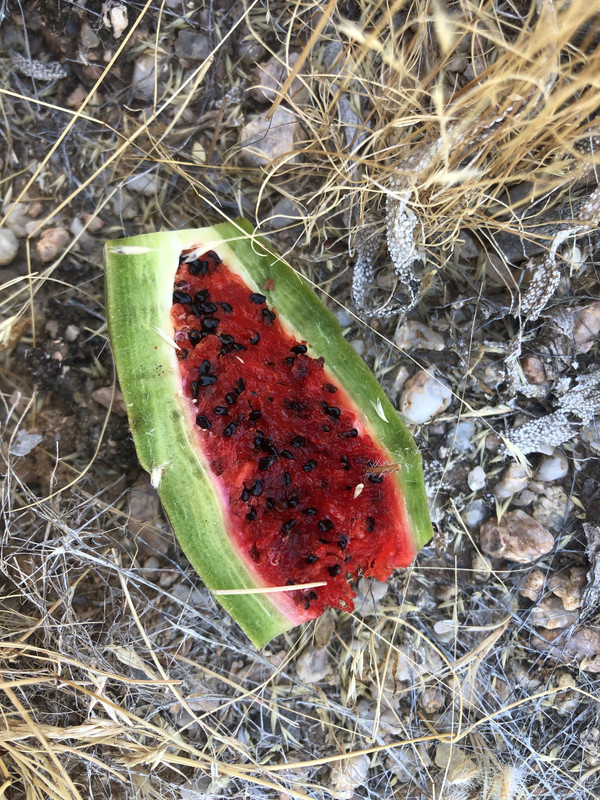 Introduced (also known as nonnative, exotic, alien) plants have been brought by people to places where they were not historically found. They do not have the established relationships with the ecosystem that native plants do. These plants can become naturalized and eventually support some wildlife, but it is often less than native plants. An example of a plant introduced to North America is aloe. Aloe can be seen all over metro Phoenix, but it does not typically leave an area that is maintained by people.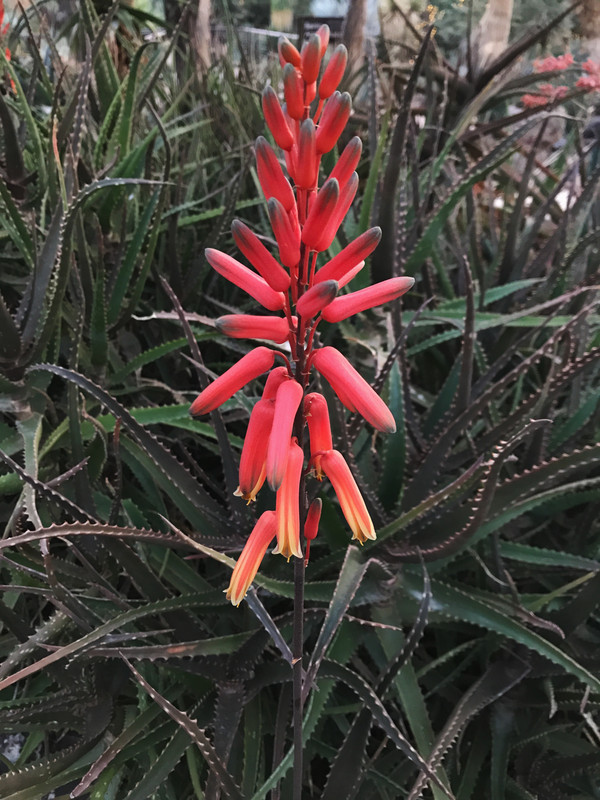 Invasive plants are those that have the tendency to overtake and alter the ecosystem they live in. They are most often introduced, but there are some native plants with invasive tendencies. Invasive plants compete for space and resources, pushing native plants out of their habitat. This also means that traditional medicinal and food plants of the area can be lost. Invasive species can greatly contribute to the loss of biodiversity. According to the US Forest Service (n.d.), "invasive species have contributed to the decline of 42% of U.S. endangered and threatened species, and for 18% of U.S. endangered or threatened species, invasives are the main cause of their decline." Because the majority of invasive plants are introduced, they most often do not provide as much support for other species. An example of an invasive plant is stinknet (Oncosiphon piluliferum). This species rapidly overtakes areas it grows in and quickly spreads to new locations. When this plant dries out in the summer, it also becomes a significant fuel source for wildfire.
More information on Stinknet:
English: https://aznps.com/wp-content/uploads/Stinknet-Brochure-English-Feb2020.pdf
Spanish: https://aznps.com/wp-content/uploads/Stinknet-Brochure-Spanish-Feb2020.pdf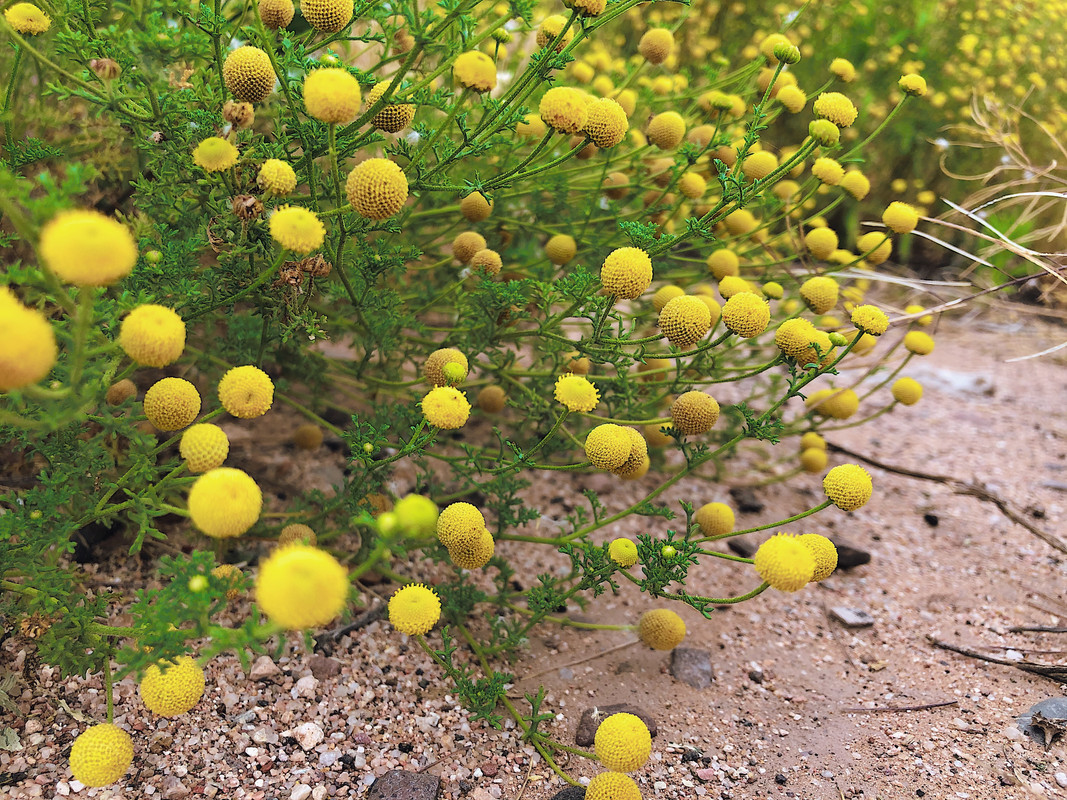 These labels are not always clear-cut and often overlap. It is important to look at these labels in an ecological sense. What are your thoughts on these descriptions? Why do you think native plants are important, and how do you view invasive species? Share your thoughts in the journal comments.
---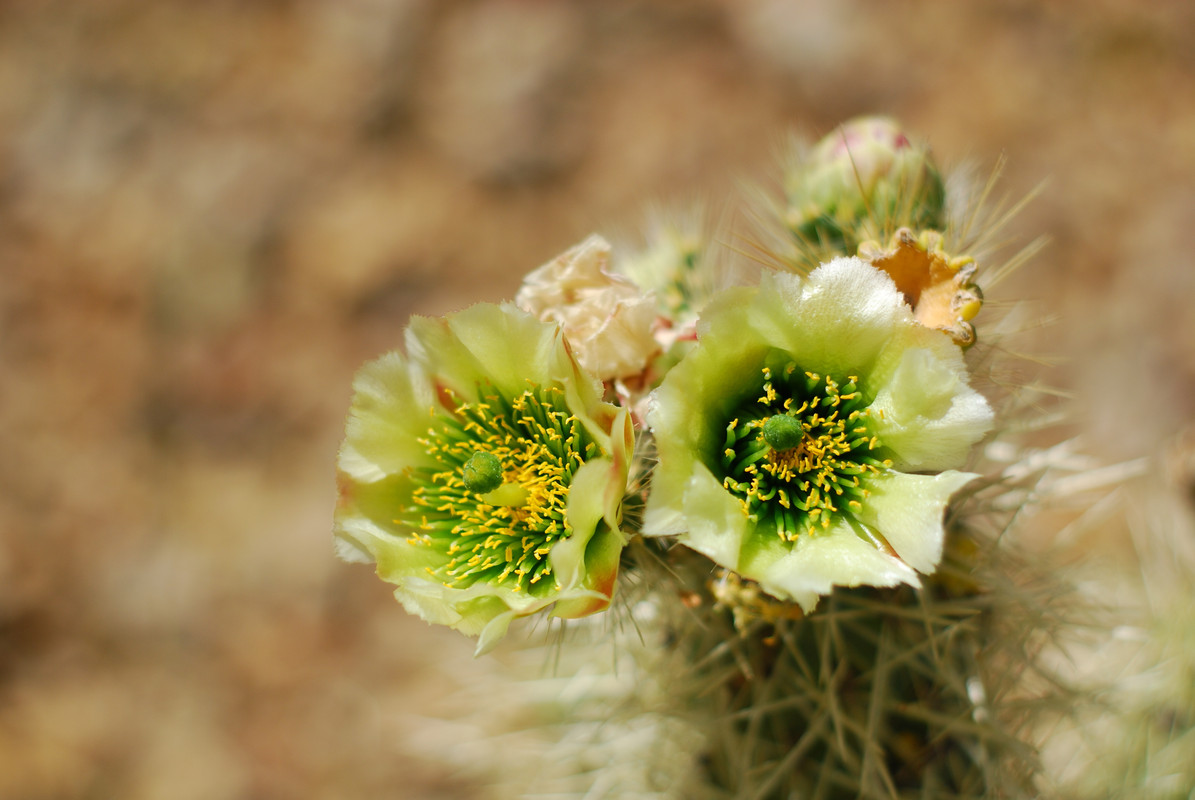 WHAT TO OBSERVE:
Anything in the Kingdom Plantae is open for observation. Observe any plant species you come across and try to determine if it is native, introduced or invasive. Use the provided guides and resources for help.
HOW TO OBSERVE:
The way this EcoQuest works is a little different than usual.
You will need to join the EcoQuest to have your observations counted!
Then when you upload your observation, type "Native," "Introduced," or "Invasive" in the Notes section.
On the website: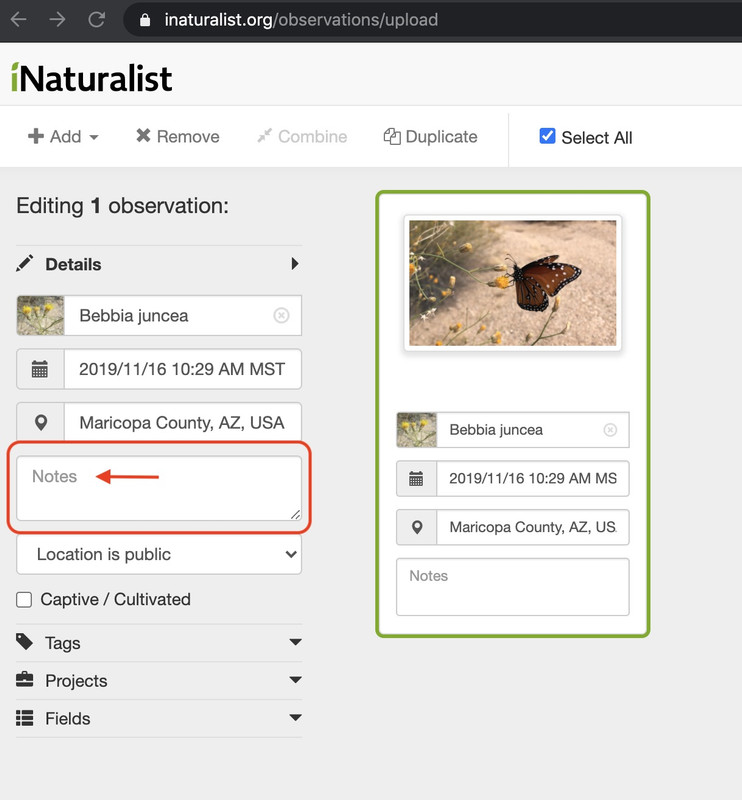 In the iPhone app: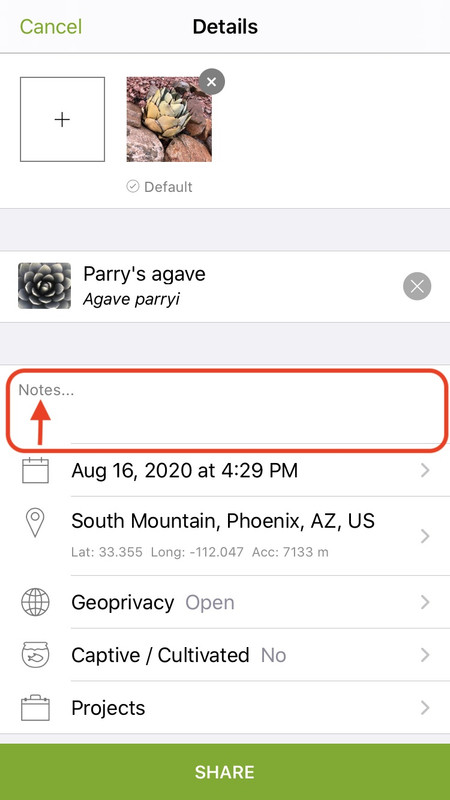 In the Android app: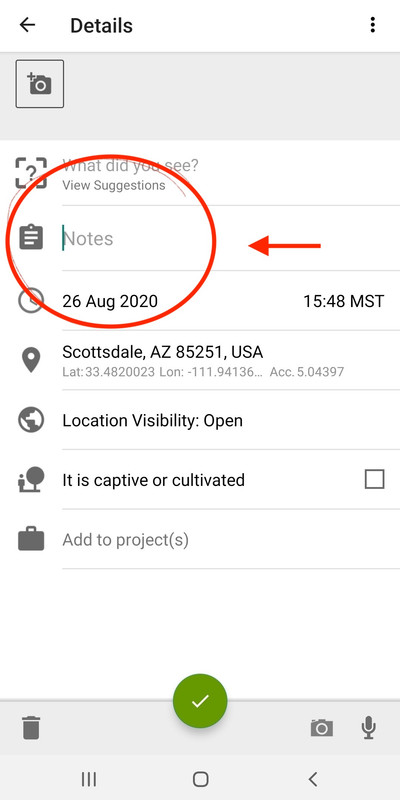 ---
Observing, mapping and noting if plants are native, introduced or invasive can provide data and information about populations, cultivated species, biodiversity and where invasive species may have an opportunity to increase or spread.
---
Sources:
USDA: Natural Resources Conservation Service
https://www.nrcs.usda.gov/wps/portal/nrcs/detail/ct/technical/ecoscience/invasive/?cid=nrcs142p2_011124
National Wildlife Federation
https://www.nwf.org/Garden-for-Wildlife/about/native-plants
https://www.nwf.org/NativePlantFinder/
USFS
https://www.fs.fed.us/wildflowers/invasives/
---
---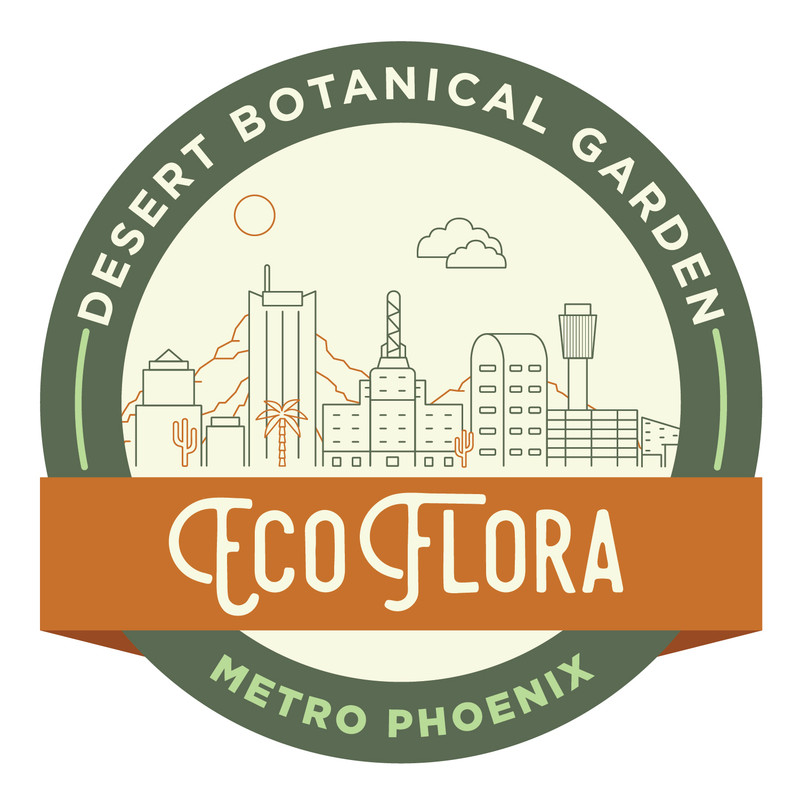 EcoQuests are month-long challenges that are part of the larger Metro Phoenix EcoFlora project.
You can learn more and join the Metro Phoenix EcoFlora here:
https://www.inaturalist.org/projects/metro-phoenix-ecoflora
Sign up for the newsletter at ecofloraphx@dbg.org.
Let's be social @ecofloraphx


PLEASE observe COVID-19 guidelines/recommendations.
This a great opportunity to get outdoors close to home as we all navigate the complications of COVID-19. However, it is imperative that you follow the guidelines/recommendations of your local governments and institutions (wear a mask, practice physical distancing and wash your hands). Do what's best for you and your community.
Arizona Office of Tourism: Responsible Recreation in AZ
https://tourism.az.gov/responsible-recreation-across-arizona
---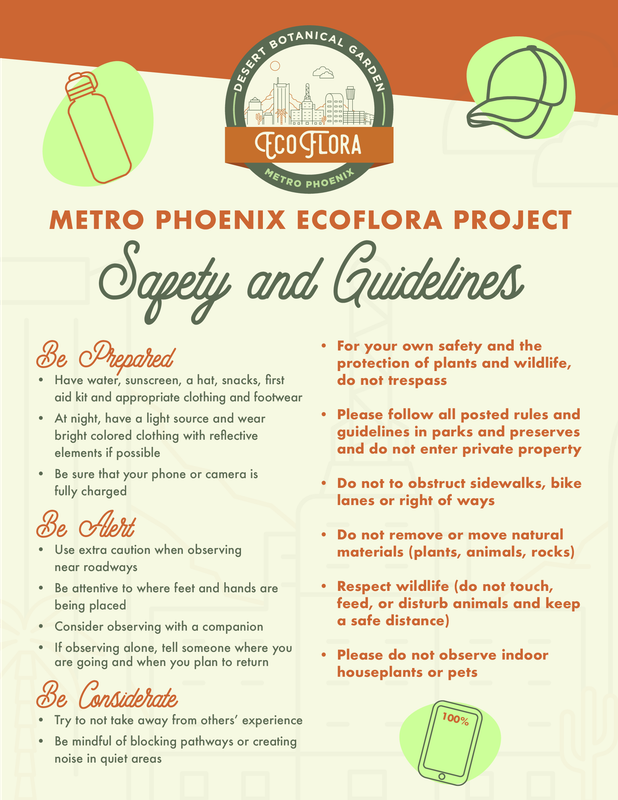 ---